Summary:
The lads talk about Thanksgiving and of course with it being the semester midterm break, the Zombie Game is back! How will you survive? Oh and this midterm break is going to be a bit longer than usual. Thw WYM Crew will be back December 1st!
In the Studio:
Dan
Ken
Critter
Jess is showing us up again in the Zombie Game!
Cocktail du Jour:Bourbon Spiked Hot Apple Cider
-4 cups apple cider
-1 cinnamon stick
-1 tablespoon orange juice
-3 whole cloves
-1 star anise
-Bourbon
To make the hot cider:
Place the apple cider, cinnamon stick, orange juice, cloves and star anise in a small pot and bring to a boil. Lower to a simmer for 5-10 minutes. Remove from heat and strain into a pitcher.
To make the drink:
-In glass add 2 oz bourbon and 1 cup of the cider mix.
-Garnish with an orange slice and stick of cinnamon.
Drink the delicious apple pie tasting boozey concoction!
Quote du Jour:
Doofer – Hey look at this. Do you think I will look good in this? Like with the this, with the mid drift and the thing.
Dave – No, no. You need to more of something more. Something to accentuate your curves more.
Adam – WHAT THE FUCK IS GOING ON HERE?!
Dave – What's your problem?
Adam – What's my problem? Where do I fucking start? My bra is rubbing me raw. I have a fat ass. And I have twisted my ankle three times today.
Dave – Why are you wearing heels? We are in college. No ones wearing heels.
Doofer – Heels are out man. Last year. Hello?
Adam – Dude they make my legs look slimmer. I HAVE A FAT ASS!
Adam / Adina, Dave / Daisy, and Doofer / Roberta – Sorority Boys
Intro/Outro music from Haggis Rampant's new album, "Burly!"
Pics/Links:
Zombie Game – Commercial Kitchen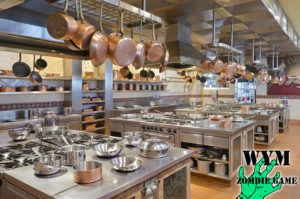 Here are the rules:
You're in the room pictured above (a commercial kitchen which apparently specializes in pots and pans)
In exactly 5 minutes, a hoard of zombies is going to come busting in (attacking zombie breed: "Left 4 Dead" style. They're faster, but bites don't count!)
You have a pocket knife, a lighter, and whatever you see in this room at your disposal to get through the hoard and out of the building, where a chopper will be waiting.
(Expanded rules & explanations: You can't crawl through the drop ceilings, you can't wait it out in a hiding spot, and when it says in 5 minutes zombies will be upon you, that means they are already outside the room, you just have 5 minutes before they break down the door and devour you.)
Post your escape plans/improvised weaponry to one of our social media accounts. We will be posting the image there as well. We will read your responses when we get back from our semester break.
The best idea will be handsomely rewarded with… mad street cred. After all, you know you want to be known among your friends as the "ultimate zombie apocalypse surviving guru." Maybe one day you can teach a class about it.
GO!
Facebook – www.facebook.com/wympodcast
Twitter – twitter.com/wymshow – @wymshow
iTunes – itunes.apple.com/us/podcast/watch…d1065059804?mt=2
Sound Cloud –@watchyourmouthpodcast
Stitcher – www.stitcher.com/podcast/watch-your-mouth-podcast
Spreaker – www.spreaker.com/show/watch-your-mouth-podcast
Merchandise – www.cafepress.com/wymmerch